The Basics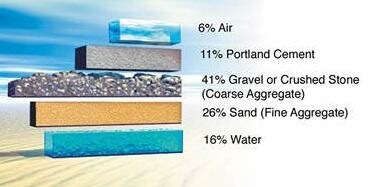 Do you know the difference between cement & concrete?
Words like cement and concrete often are used interchangeably but they are different. Cement is actually an ingredient of concrete. Concrete is basically a mixture of aggregates and paste. The aggregates are sand and gravel or crushed stone; the paste is water and portland cement. A unique quality of concrete is that it gets stronger as it gets older.
In its most basic form, concrete is made from cement, water, and aggregates or rocks. Most concrete today is also comprised of supplementary cementing materials and chemical admixtures.
Types of Cement